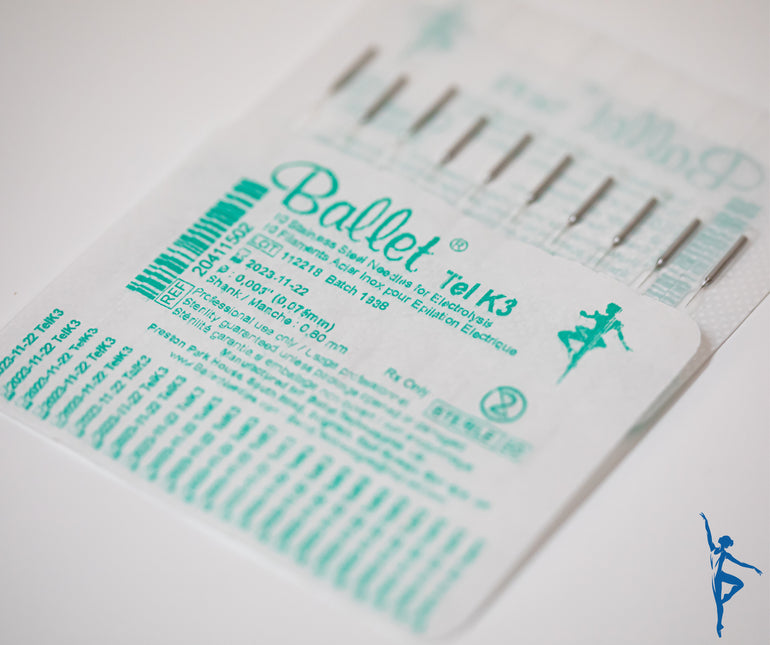 Ballet Telangiectasia Stainless Steel Needles (F3-tel and K3-tel)
Ballet F-Shank Size 3 Stainless Telangiectasia Needles
Package of 50 needles
--
Point Profile
Drawing on Ballet's extensive experience in the production of sterile disposable needles, the Ballet TEL® needle undergoes extra shaping and polishing beyond the requirements of other Ballet needles in order to achieve the ideal point profile for telangiectasia treatments. A thin tapered point allows easy and gradual penetration to the target depth, and equally effortless withdrawal after the completion of the treatment.

These photographs illustrate the sharply pointed profile of the Ballet TEL® needle, a shape ideally designed for the special requirements of telangiectasia treatments. Additionally, note the smooth finish of the needle's surface that ensures virtually irritation-free penetration of the skin's surface. A comparison with a Ballet sterile disposable electrolysis needle shows the different profile of each type of needle.
TEL® (red vein)
The Ballet TEL® (red vein) needle, designed in close cooperation with Michael Bono (author of the definitive book on treating telangiectasia), is the first needle made specifically for use in telangiectasia treatments involving the penetration of the skin by a needle.
In contrast to an electrolysis needle, which ideally possesses a slightly rounded point, a telangiectasia probe requires a point that will easily and painlessly pierce the skin surface in order to reach the treatment area. Client comfort is improved and the precision of treatment is increased.
Sizes Available:"F" Shank (1.25mm) and "K" Shank (0.80mm) needles are available in both Stainless Steel and Gold.
IMPORTANT NOTICE
The treatment of telangiectasia is a delicate yet invasive form of care. In many jurisdictions, non-medical personnel are either forbidden to treat telangiectasia, or may do so only under the supervision of a physician. If you are not a medical doctor, please consult your competent local health regulatory authority to determine if you are permitted to treat telangiectasia.
Synoptic Products is the leading importer of Ballet Needles for North America and your supplier for electrolysis and dermatology products.
---
Contact us with questions
Free shipping on orders over $125
Ballet Telangiectasia Stainless Steel Needles (F3-tel and K3-tel)