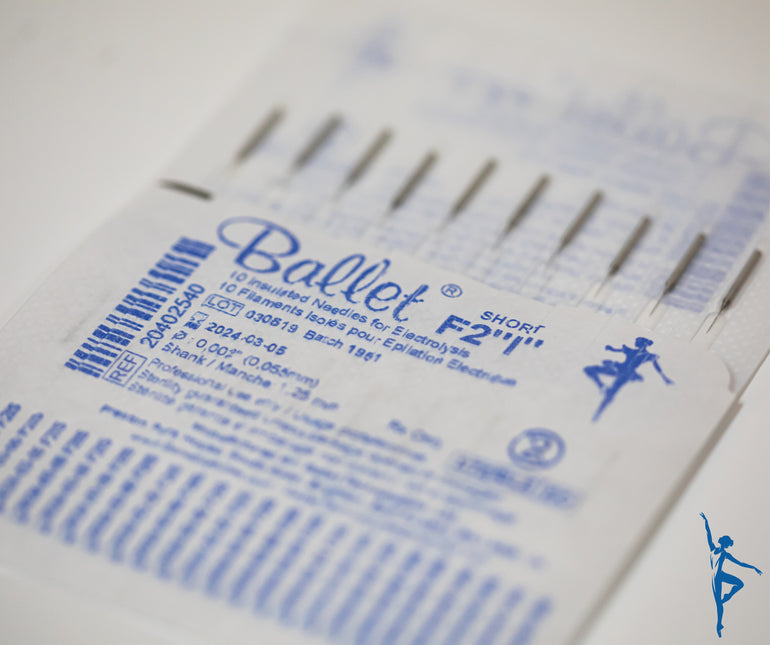 Ballet F2-F6 Insulated Needles Probes (.002 - .006")
Product Details Ballet F-Shank Insulated Needles:
Needle shaft diameter: "F" 1.25mm
Needle filament/tip diameter: 0.002 - 0.006 inch
Needle Surface: Stainless steel needle is coated with a clear insulation except at the very tip.
The Ballet insulated needle is coated with a medical-grade insulation less than one micron thick. This special coating, developed for use on dental prosthetics, allows smooth insertions and stands up to the longest treatments. Security from over-treatment is excellent. The sensitive surface layers of the skin are protected and important reductions of discomfort are possible. Micro-polishing is used to achieve Ballet's unique, rounded point. Current intensity can be lowered and insertions are smooth, precise and comfortable.
Treatment recommendations: The insulated needle is suggested for clients with a high sensitivity to the discomfort of electrolysis Other Ballet Needle sizes available: For "F" Shank 1.25 mm shaft diameter: Tip diameters of .002″ .003″ .004″ .005″ .006″ For "K" Shank 0.80 mm shaft diameter: Tip diameters of .002″ .003″ .004″ .005″ .006″
Synoptic Products is the leading importer of Ballet Needles for North America and your supplier for electrolysis and dermatology products.
---
Contact us with questions
Free shipping on orders over $125
Ballet F2-F6 Insulated Needles Probes (.002 - .006")