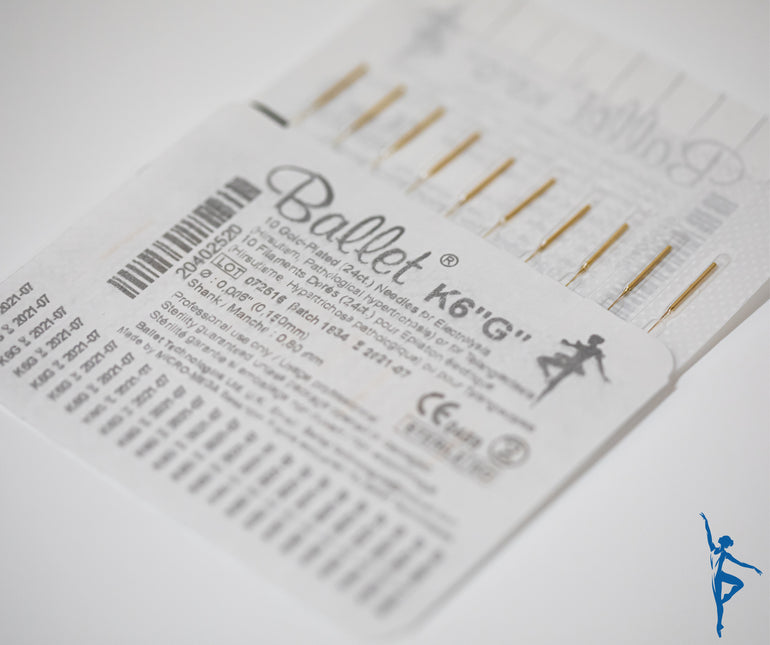 Ballet K2-K6 Gold Needle Probes (.002 - .006")
Ballet K2-K6 K-Shank Size 2-6 (.002 - .006") 24 carat Gold Coated Needles
Package of 50 needles
--
Product Details Ballet K2-K6 Gold:
Needle shaft diameter: "K" 0.80 mm, requires K-Shank Needle Holder
Needle filament/tip diameter: 0.002 - 0.006 inches
Needle Surface: Stainless steel needle is plated with a thin 24 carat gold
The Ballet gold needle is plated with nickel-free, 24 carat gold. Gold has many acknowledged medical uses from acupuncture needles to ear piercing posts, and its benefits are clear in electrolysis.
Redness and swelling are reduced and the skin rapidly returns to normal after even the most delicate treatments, particularly red vein and skin tag work.
Treatment recommendation:
The 24ct gold needle responds to the needs of clients who suffer from allergies and sensitive skin and whose skin reacts negatively to standard stainless steel probes.
Other Ballet Gold Needle sizes available:
"F" Shank (1.25 mm): .002″ .003″ .004″ .005″ .006″
"K" Shank (0.80 mm): .002″ .003″ .004″ .005″ .006″
Synoptic Products is the leading importer of Ballet Needles for North America and your supplier for electrolysis and dermatology products.
---
Contact us with questions
Free shipping on orders over $125
Ballet K2-K6 Gold Needle Probes (.002 - .006")